Professionals
December 12, 2012
Gregory M Winters
The November elections are over, but we still have a divided government with Democrats controlling the White House and the Senate, while Republicans control the House. If Democrats and Republicans cannot come to a bipartisan agreement to avoid the fiscal cliff, the Bush-era tax cuts will automatically expire on January 1, 2013. This will result in income tax rates increasing to up to rates as high as 39.6% on ordinary income.
In addition to increases in the overall tax rate schedule, several other tax benefits will also be eliminated beginning January 1, 2013. These changes include: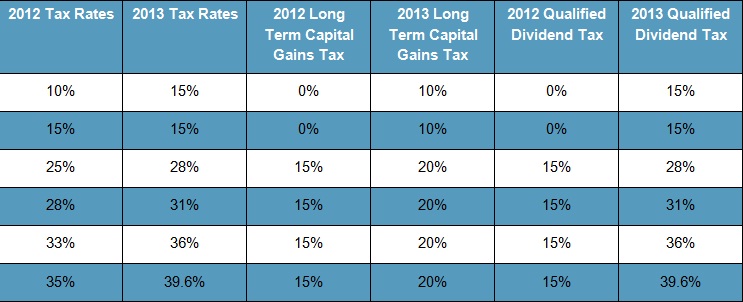 Exemption Phase-Out – Each taxpayer is entitled to a $3,800 (2012) tax exemption (deduction) for him or herself, his or her spouse, and each dependent. Beginning in 2013, a phase-out (reduction) of the exemptions will return for higher income taxpayers.
Itemized Deduction Phase-Out – Beginning in 2013, higher income taxpayers will again be subject to the phase-out of itemized deductions.
Payroll Tax and Self-Employment Tax – Both the payroll withholding tax and self-employment tax rates have been reduced by two percentage points for the last two years. Payroll FICA withholding will return to 6.2% (up from 4.2%) and self-employment tax will return to 12.4% (up from 10.4%) beginning in 2013.
Bonus Depreciation Expires – Over the past several years, businesses have been able to take advantage of "bonus depreciation" that essentially allows a 50% (100% during some periods) depreciation deduction of the cost of qualified business equipment and machinery in the first year it is placed in service. This big business write-off expires after 2012.
Alternative Minimum Tax (AMT) – While the AMT was originally intended to impose a tax on higher income taxpayers that were deemed to be avoiding tax via tax shelters and other legal means, it has continued to trap more and more taxpayers each year. Further, while the AMT exemption amount has been adjusted upward each of the past several years, if Congress fails to provide an increase for 2012 and 2013, the exemption amounts would revert to levels not seen since 2002. The reduction of the exemption amount would subject a significant number of additional taxpayers to AMT for 2012.
In addition to the reduction or elimination of benefits described above, the following provisions of the heath care law are scheduled to take effect in 2013:
Increased Medicare Tax – An individual is liable for Additional Medicare Tax equal to 0.9% if the individual's wages, other compensation, or self-employment income (together with that of his or her spouse if filing a joint return) exceed the threshold amount for the individual's filing status. Thus, the wage withholding rate for Medicare taxes will be 1.45% up to the income threshold, and 2.35% (1.45 + 0.9) on amounts in excess of the threshold amounts.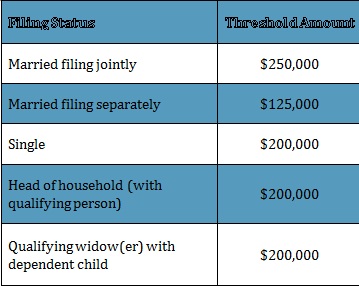 Surtax on Unearned Income - A new surtax will also be imposed on the unearned income of individuals, estates, and trusts. For individuals, the surtax is 3.8% of the lesser of:
The taxpayer's net investment income, or
The excess of modified adjusted gross income over the threshold amount.
Investment income includes: income from interest, dividends, annuities, royalties, rents (other than those derived from a trade or business), capital gains (other than those derived from a trade or business), trade or business income that is a passive activity with respect to the taxpayer, and trade or business income with respect to the trading of financial instruments or commodities. The surtax on unearned income would result in long-term capital gains being taxed at rates as high as 23.8% (20% + 3.8% surtax) and dividends at rates as high as 43.4% (39.6% + 3.8% surtax).
What to do? In prior years' newsletters, we have discussed the possibility ofdeferring income and accelerating deductions in order to minimize current year taxable income and taxes. In 2012, many of our clients are doing just the opposite. Instead of deferring taxes, individuals are now attempting to accelerate income in order to avoid higher tax rates in 2013 and beyond. Below are some planning strategies you might consider:
Strategy #1 – Consider realizing capital gains prior to 2013, when capital gains and unearned income tax rates increase. Additionally, if you are in a net-capital-gain position for 2012 and anticipate being in a net-capital-gain position in 2013 or beyond, consider deferring recognition of capital losses until 2013, because the losses may be more advantageous in future years when they can offset higher tax rates on capital gains.
Strategy #2 – If you participated in a transaction that would otherwise qualify for installment treatment, you might consider electing out of installment sale treatment and recognizing the entire amount of gain in 2012. This would allow you to recognize the entire gain at today's lower capital gain rate. When weighing this strategy, you should consider the impact that electing out of installment sale treatment will have on your cash flow. Alternatively, you may consider negotiating an accelerated payment of a previously existing installment sale as a means of accelerating realization of the gain into 2013.
Strategy #3 – Consider whether changes to the taxation of dividend income should impact the allocation of your investment portfolio. For example, you might rebalance your investment portfolio by increasing investments in growth assets and decreasing the number of dividend paying stocks you own. With higher rates, tax-exempt investments may produce a greater after-tax yield than taxable investments. Consult with your investment advisor before making any investment decisions.
Strategy #4 – Consider donating appreciated securities, rather than cash, to charity, to receive a charitable deduction equal to the fair market value of the securities, while also avoiding paying capital gains tax on security appreciation. Having preserved the cash, consider purchasing new investments with a "refreshed," higher basis with the cash you would have donated, lowering your exposure to the 3.8% tax on unearned income.
Strategy #5 – Consider converting all IRAs to Roth IRAs prior to 2013 in order to remove required minimum distributions from future modified AGI subject to the 0.9% surtax as well as to minimize exposure to potentially higher tax rates after 2012. Remember that conversions after 2010 are fully taxable in the year of conversion.
Tax-Free Distributions From IRAs for Charitable Purposes
We have received numerous inquiries about whether legislation has been enacted to allow the transfer of up to $100,000 from an individual's IRA directly to a charity. This provision has been in place the past several years. Unfortunately, Congress has not acted to extend this provision to 2012 or 2013. As a result, this planning option is not currently available.
Estate and Gift Taxes
2013 will likely see significant changes to the current gift and estate tax structure. The current gift and estate tax-free exemption amount is $5.12 million. This means that married couples are able to shield up to $10.24 million from gift or estate taxes. Further, the top current gift and estate tax rate is 35%. However, if Congress and the White House fail to take any action by year-end, the gift and estate tax-free exemption amount will fall to only $1 million ($2 million for married couples) and the top marginal tax rate will increase to 55%.
The generation-skipping transfer ("GST") tax is still in place. Generally, the tax applies to lifetime and death-time transfers to or for the benefit of grandchildren or more remote descendants. For 2012, the rate is a flat 35%. The tax is in addition to any gift or estate tax otherwise payable. As with the gift and estate tax, each taxpayer is allowed a $5.12 million GST tax exemption for 2012. Without further legislation, the GST exemption is scheduled to fall to $1.36 million in 2013 and the top rate is scheduled to increase to 55%.
Consider Lifetime Gifts that take Advantage of both the Gift Tax Exemption and GST Exemption
Many clients utilize a portion or all of their $5.12 million gift tax exemption ($10.24 million for a married couple) by structuring long-term GST exempt trusts benefiting multiple generations. Such trusts will remain exempt from all gift and estate tax as long as the trust remains in existence. Under Illinois law, such trusts can last in perpetuity, thereby allowing you to create a family "endowment fund" for your children, grandchildren and future descendants.
If you already have taken advantage of the current $5.12 million exemption amount or you are not in a position where it makes sense to gift $5.12 million dollars, you should still continue to plan a gifting strategy going forward.
Annual Exclusion Gifts
In 2012, you may make a gift of $13,000 to any individual and certain trusts without any gift tax consequences. Married individuals may make gifts of up to $26,000. Gifts may be made outright or in trust and may be in the form of cash, securities, real estate, artwork, jewelry or other property. Giving property that you expect to appreciate in the future is an excellent way of utilizing your annual exclusion gifts because any post-gift appreciation is no longer subject to gift or estate tax. To take advantage of your annual exclusions for 2012, gifts must be made by December 31. Gifts over $13,000 or gifts that will be "split" between spouses must be reported on a gift tax return, which must be filed in April 2013. The annual exclusion amount is scheduled to increase to $14,000 in 2013 ($28,000 for married couples).
Payment of Tuition and Medical Expenses
In addition to annual exclusion gifts, you may pay tuition and medical expenses for the benefit of another person without incurring any gift or GST tax or using any of your estate or GST tax exemption. These payments must be made directly to the educational institution or medical facility. There is no dollar limit for these types of payments and you are not required to file a gift tax return to report the payments.
Take Advantage of Today's Low Interest Rates
Interest rates remain at historically low levels. Low interest rates enhance the benefits of several gift and estate planning strategies. One such strategy is the "grantor retained annuity trust" or GRAT. A GRAT is an irrevocable trust to which a donor transfers property and retains the right to receive a fixed annuity for a specified term. At the expiration of the term, the property usually passes outright or in trust for the benefit of descendants or other named beneficiaries. The amount of the gift resulting from the transfer of the property to the GRAT is the present value of the remainder interest that passes to the beneficiaries at the end of the term. Under the valuation methods adopted by the IRS, the lower the interest rate at the time of the gift, the lower the present value of the remainder interest and the smaller the amount of the gift that must be reported to the IRS. Interests in closely-held family businesses or marketable securities with high growth prospects are often ideal properties to transfer to a GRAT. While there has been considerable discussion about disallowing "zeroed-out" GRATs and requiring a minimum GRAT term of 10 years, Congress has not taken any action in this respect. As a result, GRATs remain a very attractive planning opportunity.
Low interest rates also make sales to "defective" grantor trusts more attractive. Under this strategy, a taxpayer creates a trust, typically for his or her spouse and descendants. The taxpayer then sells assets to the trust, taking back a note requiring the trust to repay the taxpayer in installments. The trust is structured so that it is ignored for income tax purposes, resulting in no income tax consequences upon the sale. The interest paid on the note is typically at the applicable federal rate, which changes month to month based on current market rates. The lower the interest rate on the note, the greater the amount of assets that will accumulate in the trust, free of estate, gift and GST taxes.
This article was prepared by Greg Winters. You may contact Greg at 312/840-7059 or gwinters@burkelaw.com or your BWM&S attorney at 312/840-7000 or burkelaw.com.